Imagine waking up in handcuffs, on a ship going somewhere you don't know. You have a loving wife and four kids. You have no idea where they are at this point. Upon arriving at this unknown destination, your name is changed. You had a culture, tribe, and traditions but they all have been stripped away from you at this point. You are forced to forget your origin and accept this new reality. You try to question what's going on. Instead of giving you answers, you are beaten and disrespected in front of other people. You are forced to work days and nights without pay. You are not allowed to call in sick or take days off work. You feel like you are dreaming, but it's your new reality. You are confused! You are a slave from Africa, in America.
Despite this confusion, you decide to accept your new situation. You marry a new wife, who is also a slave and have two kids with her. Your wife is raped several times a week by your boss, and sometimes you are forced to watch. If you fight, you know very well that your two kids would end up being without a father, for you would be murdered in front of your family. You have witnessed this happen to other slave families. You wake up one morning to discover that your wife and children have been sold to three different slave masters who are located in different areas of this world, and their names have been changed. There are no cellphones, vehicles or any way to locate your family. More confusion for you.
This went on throughout the 17th and 18th centuries. People were captured, kidnapped, and sold from Africa. They were taken to the American colonies and forced into free labor. Slaves played a major role in building America. In the 19th century, the Emancipation Proclamation was passed to free all slaves. However, most people would agree with me that slavery still exists in different forms in America. Just the other day, Brandon Bernard, a black man, was executed by the federal government after spending over half of his life on death row. Bernard was one of five young men convicted in Texas of killing Stacie and Todd Bagley in 1999. Bernard was only 18 years old and did not pull the trigger. He lived his prison life in regret and remorse over what happened in 1999. The family of the deceased had forgiven Bernard, lots of people including celebrities and politicians had fought until the end to halt the execution but to no avail. On the same day Mr. Bernard was executed using lethal injection, the Arkansas Supreme Court overturned the death sentence of a Cleveland County white man convicted of murdering of a pregnant 22-year-old woman. There are several examples like this in America.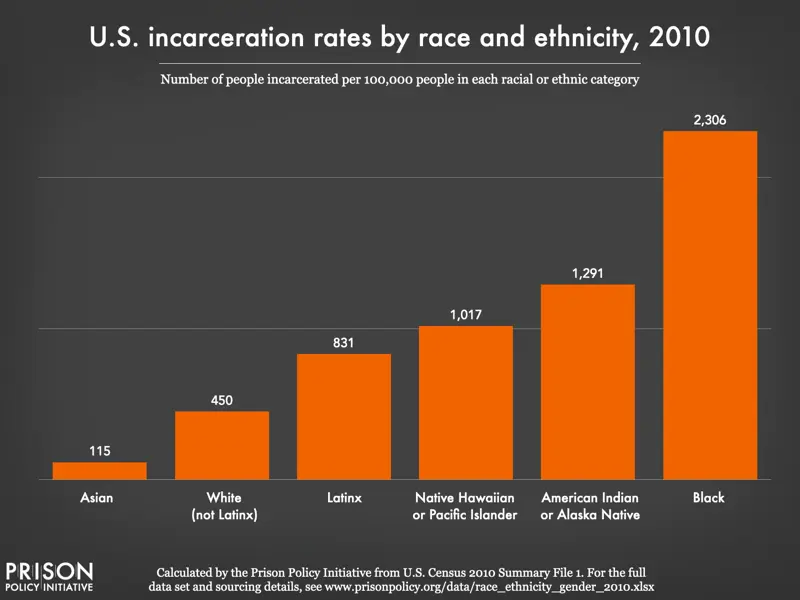 Look at the graph of the 2010 incarceration rates by race/ethnicity above and tell me if you don't see disparities. Black men and women appear to be targeted by law enforcement and jailed at more than triple the rate of white men and women. Nearly half of all people serving effective life sentences are Black. To make matters worse, blacks only make about 13% of the entire American population. How can 13% of people make up over 40% of the population in prison? Do they commit more crime than other races? Why don't we see more black people in decision making positions, whether in corporations or government institutions? Why do black people who decide to speak up against injustices get blackballed or murdered? — Remember Colin Kaepernick and Martin Luther King? As a black man or woman, speak up at work and see how long you will last at that company. In your free time, go to court and observe convictions and sentences as they are given by the judges, who are disproportionately white. You will become a justice reforms advocate only after a few observations. Check out fortune 500 companies and see how many presidents or CEOs are black. Check out the resumes of both black and white applicants and see who gets hired.
However, it's comforting to know that most Americans, black and white have come together in the fight to defeat systemic racism, incarceration disparities, and many other forms of inequalities in America. We are seeing companies promote blacks into decision making positions, more white people speaking up against racism, protesting against several killings of black people by police, and most recently, we elected Joe Biden as the next president of the USA, who has chosen Kamala Harris, a black woman as his vice president. Joe Biden stands for unity and equality. He has made mistakes in his life just like the rest of us have. He has grown from those mistakes and today, he chooses kindness over evil, and unity over division. As a father to black children, my hope is that my kids will be treated equally, and given equal opportunities as they grow up. They will not be judged by the color of their skin but by their character, they will be allowed to make mistakes and be forgiven, they will not be pulled over, incarcerated or worse, killed because of the color of their skin. They will not be afraid to walk or jog in their own neighborhoods, they will be free to speak their minds without being labelled as angry black men and women. I hope my kids will be FREE AFRICAN AMERICANS.